Connect is participating in a recycling initiative, in association with ARB Recycling, to raise funds for Connect AND support people in the developing world.
Why and how does this help?
Local Charity: For every 1 kilo of bras collected, ARB will give Connect £1.
Developing World: Bras are expensive and in short supply across the developing world. This scheme provides local job opportunities and offers affordable clothing to the third world.
Environmentally Friendly: Fabrics tend to take a long while to biodegrade, which is a process that releases harmful gases. Recycling bras will help to reduce these harmful effects.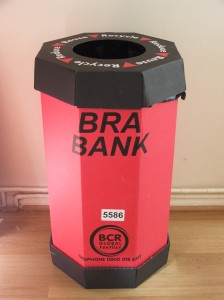 What do you get?
A great excuse to treat yourself to some new underwear and satisfaction in knowing that disposing of your unwanted bras in this way helps Connect, but also those in poorer countries and the environment all in one go!
All you do is place your clean unwanted bras (whatever their condition) in a plastic bag and deliver them to one of the bins sited below or contact Connect office on 01276 24210 for further advice regarding collection.
Recent Collections
A big Thank You, to all those who help us raise funds by collecting bras, keep up the good work.
Where are the Bra Bank Recycling bins?
Connects bins can be located at the following sites:
Camberley sites
Connect Office – 8 Portesbery Road, Camberley
St Pauls Church Crawley Ridge, Camberley. GU15 2AD
St Michaels Church London Road, Camberley. GU15 3JP
Thanks
Many thanks to St Michael's and St Paul's churches for allowing us to have a Connect bin on their sites.